Description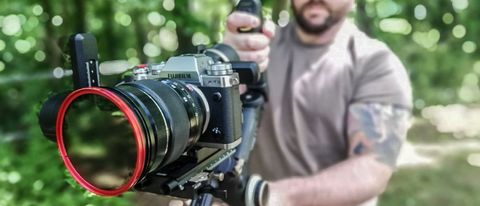 The Zhiyun Crane 3S is a heavy duty powered stabilising gimbal for larger mirrorless, DSLR or cinema cameras. Zhiyun is already well known in this area, but the Crane 3S is a total redesign from previous Zhiyun gimbals with the addition of detachable handle options, a large 6.5kg payload, an updated axis-locking system, external power input, and the ViaTouch 2.0 motion control system. It's an update to the previous Zhiyun Crane 3 Lab, but with a payload increase of around 45%.
BUILD AND HANDLING
The Crane 3S is an extremely sturdy gimbal built on a heritage of innovation with magnificent motors and a brand new modular design, which aims for wider application and intuitive control.There's no doubt that this particular model is aimed at high end filmmakers with larger setups.
Could you max out its full payload with something like a Sony FS7 or RED and still consider it a handheld run and gun style gimbal? Probably not. Or if so, only in short bursts. But the extra payload capacity and power does make a difference. I did appreciate being able to use my most versatile lens (the Fujifilm XF 16-55mm f/2.8) on a gimbal for the first time, something I've never been able to balance on my smaller DJI Ronin SC. Buy The Zhiyun-Tech CRANE 3S Handheld Stabilizer  Best Price Online from  The Clickstore,Nairobi
The best way to use this gimbal for a run and gun style video shoot (such as the film below) is in it's undersling mode. In this mode everything felt a lot more natural, the handled grip at the top was not only much easier to shoot with, but a perfect way to carry it about. I never use my smaller gimbal down low in this way because it's just not very practical to hold. The Crane 3S, however, is ideal for ground level shooting and perfect for skateboarders or extreme sports shooting, for example.
All that being said, it's clear just how strong this gimbal is, and where it's going to be most effective. If I was working on a larger production or fixing the camera to a jib arm on a chase car I wouldn't hesitate to make sure this was one of the priority pieces of equipment for the crew – especially with the ability to control it using the updated ViaTouch 2.0 iOS or Android smartphone app via Bluetooth 5.0 for remote motion control and to manage the gimbal settings and movement remotely.
You will almost certainly need to use an external monitor of some kind. The size of the Crane 3S means your camera ends up being quite far away from your face, and its screen quite hard to see.